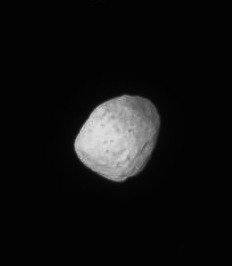 New on the raw images page is a sequence of images showing the shapes and geology of Saturn's inner small satellites:
Pan
,
Atlas
,
Prometheus
,
Pandora
,
Epimetheus
, and
Janus
. For many of these (except Epimetheus) these are the highest resolution images yet obtained for these small moons. Not much can be said for many of these moons. Pandora appears to be relatively young with only one crater visible in this view (though the polygonal shape may betray the presence of several, larger craters along the limb). Not much can be said for Pan and Atlas other than they appear to be oblong. Janus is most interesting in this view (shown above). The surface appears to be bright with number dark splotches on its surface. A crater to the upper right appears to have dark ejecta around it. Perhaps Janus is the opposite of Phoebe, with a bright surface layer with dark material beneath that is dug up by impacts.
The title link goes to a comparison showing all 6 moons side by side.