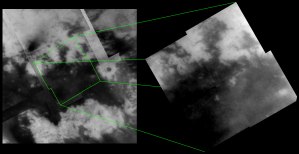 CICLOPS has released this newly processed mosaic of images taken during the April 16 T5 flyby of Titan. This mosaic shows features along the northern bright/dark boundary of the "H". From the caption:
Prominent in this mosaic is the boundary between bright and dark terrain. The outline of this boundary in some places suggests fluvial activity, particularly along the margin of the dark region that extends north near the top center of the mosaic. Along its western edge, long, dark curvilinear features can be seen running from the bright area into the dark area, similar to other channel like features seen in previous flybys.

The RADAR SAR swath taken during the February 2005 flyby of Titan covers much of the region shown on the right, particularly along the northern and western edges of the mosaic. For example, the bright oval-shaped feature (34-km across) near the right corner of the mosaic corresponds to the bright feature seen in the lower left corner of a previously released RADAR SAR image from February (PIA07368). Comparing the same features as seen by different instruments will be important to understanding how these features formed. Furthermore, it will help to constrain what exactly each instrument is detecting (surface roughness vs. brightness, surface vs. subsurface, topographic effects, etc.).

The mosaic at right is centered on 11 degrees North, 27 degrees West; north is up. Each frame consists of 5 images that have been added together and enhanced to bring out surface detail and to reduce noise, though some camera artifacts remain. These images were taken using with a filter sensitive to infrared wavelengths near 938 nanometers, considered the best ISS filter for observing the surface of Titan. This view was acquired from distances ranging from 57,000 to 46,000 kilometers. The pixel scale ranges from 670 to 550 meters per pixel though the actual resolution is likely to be several times that.