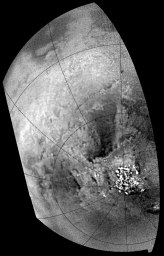 CICLOPS has released as part of their image release set for the Titan Special Issue in Nature published today a processed view of Titan's south pole taken during the T0 distant encounter on July 2, 2004. This is the same view
released shortly after the encounter
however in the subsquent months,
procedures were developed
to enhance surface features seen by ISS for easier interpretation. However, this does cause problems for clouds so the dark "shadows" seen near them are processing artifacts, not shadows caused by sunlight.
Update: CICLOPS page isn't up yet. Try the
Photojournal
for now.