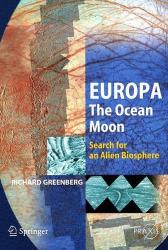 Interested in gaining a better grasp on icy satellite geology, and Europa in particular, I purchased Europa the Ocean Moon by Richard Greenberg, a planetary scientist here at the University of Arizona. I have avoided Europa like the plague for many years but I felt it was time that I know a little more about the subject. I know I said I would never post news regarding Europa, but for this, I will make an exception.
In the Europa community, there are thick ice people and there are thin ice people. Maybe that is a bit simplistic, but this is the picture you get from reading this book. Richard Greenberg and his research team are thin ice proponents. They believe that the ice shell surrounding Europa's ocean is fairly thin, less than 10 km thick, that the ice lithosphere is conducting, and that the ocean directly "communicates with the surface". In other words, the features seen on the surface, like chaos terrain and double ridges, are the result of oceanic material reaching the surface through tidal and local heating effects. Much of Greenberg's book lays out the evidence for his hypothesis, and frankly this is where the book shines. I bought this book to be informed about Europa and when Greenberg sticks to the evidence in hand and discusses Galileo results, I felt I got at least some of my money's worth. I even enjoyed the description of how these discoveries were made and the work involved.
Greenberg's discussion of the other major hypothesis, that the ice layer at least 20 km thick, consists of a brittle upper layer and a convecting layer, and does not allow for communication with the surface, is the book's major weakness. Oftentimes, Greenberg resorts to almost ad hominem attacks on the thick ice theory's major proponents, Bob Pappalardo in particular. In some cases he does go into the problems with the theory, his discussion of "pits, spots, and domes" is his best stated argument against the thick ice theory, but his other arguments against tend towards the ad hominem. At several points in the book, Greenberg describes how he felt marginalized by the establishment, by "The Man" (my words). This line of argument is often childish and was definitely the weakest part of the book.
Europa the Ocean Moon, when it sticks to the subject of Europa, is enlightening and a useful resource for the thin ice theory for the evolution of Europa's surface features. When it diverts to the discussion of the people studying Europa, particularly those outside its research group, the book borders on the childish. I would recommend this book once it hits paperback or comes down in price from its current 90 dollars.